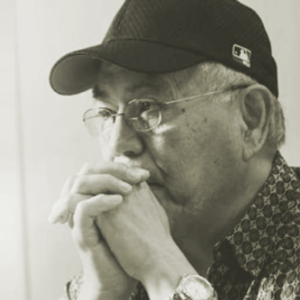 Ho'oponopono is a problem-solving method that continues to be practiced around the world by men and women of all ages, regardless of nationality, occupation, or religion.
Dr. Hew Len once said,
"Living is a business."
And then he continued.
"When we walk the sacred path through cleaning, we are engaging in the sacred production that only we can do in the world at this moment in time."
We will be sharing stories of people who, at some point in their lives, encountered Ho'oponopono, and in the process of cleaning themselves, a path called "business" opened up for them, and they have been able to make the most of it in their lives.
Part 1: Takeshi Asabuki, President of advertising agency Stonewell Inc.────────────
This year marks our 51st year in business.
It was 35 years ago that my mother, the founder, entrusted me with the management of the company.
After graduating from high school, I worked as a cook for five years in the cooking department of the Imperial Hotel, and later worked for the Weekly Hotel Restaurant magazine.
I believe that the reason I have been able to survive as a business owner and a family man is because I have been searching for my own identity since I was a small child.
The teachings of Ho'oponopono, which teach that every being has its own identity and that the best path for oneself will naturally appear if one is sincere about living one's true nature, have gradually become more and more apparent to me in the eight years since I first encountered Ho'oponopono.
When I was 19 years old, my interest in spirituality naturally deepened through an encounter with Dr. T, an engineer, businessman, and religious leader who had his head office in Asakusa Tokyo.
Then, at the age of 39, I met a new mentor. Dr. O was an engineer who had been involved in the development of television in the early postwar period and had obtained a number of patents. He respected Konosuke Matsushita, who was also from Wakayama Prefecture.
Through my encounters with Dr. T and Dr. O, I learned that not all religious people and those who practice spirituality wear special costumes or veils, but there are many people like myself who run companies or are active as engineers or businessmen, and my interest in the spiritual world deepened.
At the time, I was very afraid of losing Dr. O., who had given me sound advice on every occasion on every aspect of my work, family, and life. He told me, "Even if I pass away, you will soon meet someone wonderful again. I heard that there is a wonderful person in Hawaii.
Dr. O passed away eight years ago, and I was very shocked at that time.
But one day, in a dream, Dr. O told me, "All you have to do is say thank you.
I immediately went to a bookstore and found a book on Ho'oponopono, a problem-solving method of chanting "Thank you, I love you. Since I had already heard the word Ho'oponopono from several friends, I immediately knew this was the one.
First, I attended KR's lecture and book signing, and have been attending classes ever since.
When Dr. O said, "You will soon meet someone wonderful," of course he was referring to Dr. Hew Len and KR, but when you get right down to it, it is none other than the "true self" that you will meet through Ho'oponopono. I am now beginning to walk in the most meaningful purpose of my life, which is to become aware of and learn to care for my Unihipili and live my true self.
Those who are truly successful in business have family love and live with spirituality. And this family love is something that cannot really happen in reality unless one's identity, one's inner family, is in balance.
For example, the late Konosuke Matsushita, who is still called the god of management, is well known for his deepening study of the spiritual world as well as management, and for his active involvement in social activities such as the PHP Research Institute.
He said, "Only the lucky can become an executive."
I believe that luck is the state of "on the flow" that is repeatedly taught by Ho'oponopono instructors. This is a common need for all of us who work, and a very important ability to be where we are, to do what we need to do, and to grasp what we need to do.
What I mean here is not 'what is convenient for me,' but rather, as we call it in Ho'oponopono, memory, fulfilling one's true role in the purpose of the project, not from past judgments or illusions.
In the more than 30 years that I have been running my business, I have been very fortunate to have been able to continue running my business from the heyday of the advertising industry to the current advertising recession. It is not because I was more talented in advertising than others, but because I was able to follow the natural (cosmic) flow of things, as Konosuke Matsushita said.
It may sound very irresponsible to say so, but when you are actually running a business, you are often confronted with very difficult situations. However, the inner voice or feeling that says, "Oh, something is different," is truly the voice of the subconscious, or Unihipili, encountered through Ho'oponopono, and it is such an important sensor that it can be said to be the only rudder in a person's life.
Dr. Hew Len said,
"Always look within yourself.
Ho'oponopono is a method that allows us to live our wholeness through our work and our life as one line.
By doing business, you enrich your family, and by running your family, your business will be prosperous and stable.
Therefore, the stress of fear and anxiety caused by competition is naturally reduced.
Konosuke Matsushita was right when he said, "Beyond business, there is the spiritual world," and for me, that was Ho'oponopono.
Apart from the goal of keeping this company going, I have always had the wonderful experience of life expanding wherever I am.
As Dr. Hew Len repeatedly said.
"I know nothing.
In other words, knowing that there are things we don't know is the very wisdom we need to live flexibly in this society.
When we become aware of the message from Unhipili, "I am suffering and anxious," without turning away from it, and then humbly stand at the point where we do not really know the cause of what is happening, we can open our limited vessel (beliefs based on memories accumulated from the past), and there is a chance to show our talent beyond our imagination.
I believe what we see there, what is opened up, is 100% what we need to do and what we need to go on.
To be able to "take control of your own life" is the greatest self-realization and happiness beyond business and making money.
The beauty of Ho'oponopono is that it teaches us that we can be our own mentor.
Takeshi Asabuki
---
---