Who is KR?
KR is SITH Ho'oponopono representative based in Oahu and Hawaii Island, Hawaii.
Along with the late Morrnah, she practices cleaning and cleans with land as well as people's problems.
KR gently guides us modern people to this Ho'oponopono, where we can recover our true selves and lighten our lives by simply cleaning what is right in front of us.
Kamaile Rafaelovich - commonly known as KR
She has been practicing Ho'oponopono for almost 40 years, from the age of 19 to the present, and is the oldest student of the founder of Self Identity Through Ho'oponopono (SITH), the late Morrnah Nalamaku Simeona. She is one of the few SITH trainers in existence who has been cleaning for the longest period of time and has received direct guidance from morrnah. She is the only person who has taken over the role of bodyworker from Morrnah, and currently has many celebrities as clients. She also runs a real estate business in Hawaii and is a business owner and consultant.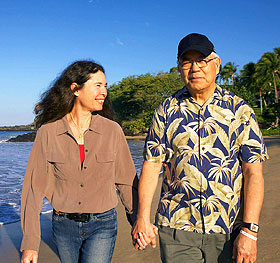 Ihaleakala Hew Len introduces KR as follows
KR and I meditate daily.
We are both responsible for the spiritual content of Self-Identity Through Ho'oponopono and the philosophy of IZI LLC.
In 1969, at the age of 19, KR began her training with Kahuna Lepaau Morrnah Nalamaku Simeona, who was later (1983) named Hawaii's Living Treasure. Mentored by Morrnah, KR learned the practice of Ho'oponopono and meditation for inspiration from the Sacred Beings. Morrnah instructed KR to meditate on health, business, spiritual consultation, spiritual awareness, earth-level issues, and even cosmic-level events.
KR had the privilege of working directly with Morrnah to develop and publish the Self-Identity Through Ho'oponopono process. This new problem-solving method is disseminated around the world every year through various classrooms, lectures, publications, and all manner of other means.
Ihaleakala Hew Len, PhD