Name KR online lecture

Date (Japan Time)


Sunday, November 7, 2021


Date (Hawaii Time)


Saturday, November 6, 2021

Time (Japan Time)


10:00 - 13:00 (3 hours)


Time (Hawaii Time)


15:00 – 18:00 (3 hours)

Language English with Japanese Translation
Now accepting applications
※Please note that the application period is until Thursday, November 4.
POI
Theme: Where do I belong?
What does the Belonging mean to you?

For some it may be their home, for others it may be their work place. For others, it may be the friends, their culture, music, or an expression of art.

What do you feel that the Belonging will gives you?

A place of security, joy, contentment, peace of mind, individuality, richness, and mutual recognition?
It may refer to a place that is filled with everything.

Right now, the whole world is beginning to move erratically in a way that it never has before, and we are all experiencing the same thing in common: things that we used to take for granted are no longer so. Many of you may be experiencing a different aspect of your place in the world.

When we look inside ourselves again to find out where our fear and impatience of losing our belonging in this world is, we realize that the voice is coming from our inner child, Unihipili.

We have somehow become accustomed to living in a duality world of me versus society (outside), but once we realize that our inner child is always showing us signs, we can reclaim our identity as I and the connection.

Each one of us is a perfectly designed Identity.
Each one of us is a perfect being, not a part of any one place, but a perfect being with an inner family, connected to the Divine.

By cleaning with what is, right relationships and finances, the place you have been looking for will become a place you can always return to, we don't have to be a seeker.

You may be tired of looking for your place, you may be anxious about the changes, you may be looking forward to the future, or you may be worried.
No matter who you are, such an experience itself is the entrance door to your inner home.

In this lecture, we will clean together from the place where we are right now.

I look forward to seeing you.

Peace,
KR
Instructor: Kamailelauli'I Rafaelovich(KR)
Kamailelauli'I Rafaelovich is president of The Foundation of I, Inc. Freedom of the Cosmos and IZI LLC.
Kamailelauli'I met Morrnah in 1969 and over several years learned the ancient art of Lomilomi-Hawaiian massage. She is a licensed massage therapist. She was present during the years that Morrnah received inspirations from Divinity in meditation … which brought us the Self-I-Dentity through Ho'oponopono® process. Kamailelauli'I is president of Bingboard Consulting LLC.
She is principal broker for her real estate company, The Pele Group, Inc. and received her a MBA from Hawaii Pacific University. Kamailelauli'I owns Ho'omau Ranch, a 1600-acre forested property on Hawaii Island and along with her daughter, manages and cares for it.
---
Interpreter:Betty Pua Taira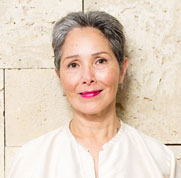 First attended Self I-Dentity Through Ho'oponopono SITH® class in May 2008, in Los Angeles with Dr. Ihaleakala Hew Len.
In November 2008, she became a coordinator and conducted the first SITH® class in Asia, in Tokyo Japan.
Practicing the SITH® process has completely changed her life from living with competition and striving, to living in acceptance of true self and finding the flow.
Her life has changed drastically since living from a state of "I DON'T KNOW".
She is deeply grateful to the SITH® process Morrnah has left us in her legacy, and to all the pioneers who have carried on this method, as well as all the coordinators around the world.
She feels blessed by the opportunity to have coordinated the SITH® classes in the Asia region, including countries such as Japan, Taiwan, Korea, China, Malaysia and Singapore throughout the years.
She has been involved in marketing, promotion and public relations business for 31 years, as the founder of Serene Co., Ltd.
Lecture Details
Date & Time

Japan Time
Sunday, November 7, 2021
10:00 - 13:00 (3 hours)
Hawaii Time
Saturday, November 6, 2021
15:00 – 18:00 (3 hours)


How to Participate

This lecture will be held using the online meeting app Zoom.
Please download the app to your computer or smartphone in advance.


| | |
| --- | --- |
| | (PC) |
| | (iPhone/iPad) |
| | (Android) |

Once you have completed the application and payment, we will send you the URL to attend the lecture by email.
You can access the URL from one hour before the lecture.
If you are not used to using Zoom, please allow plenty of time for your participation.

Notes

It is forbidden for anyone other than the applicant to participate or share the Zoom URL with a third party.
Please make sure you are the person who applied for the event and that you are the one who is attending.
Recording, videotaping or filming is not allowed.
All information, copyrights, trademarks and all other intellectual property rights in the lecture are owned by IZI LLC. Therefore, it may not be divulged, published, reproduced, copied, distributed, sold, offered, advertised or otherwise disclosed to any third party without the prior permission of IZI LLC.
Since there are no plans to release video recordings of the lectures, please check the schedule carefully and make sure you can attend the event before applying.
Please be sure to read "Who's in charge?"before the lecture.

Cancellation Policy


The lectures at SITH Ho'oponopono will be cleaned by SITH executives and instructors from the time of registration, so we cannot accept cancellations after registration is complete for any reason.

How to Apply
Your application is completed when you complete the application and payment procedures.
1) Please pay the participation fee of JPY10,000 by credit card.
2) Please fill out the application form below and click the "Send" button. A confirmation email will be sent to the email address you entered.
Application Form
What happens after you apply?
【Completion Email】
We will send completion email (with Zoom URL) to those who have received confirmation of your application and made payment in order to notify you of the completion of your application.

【Download the Zoom app】
Please download the Zoom app onto your device before the event.
Please refer to the following link to download the application.
●How to download Zoom application
【Participating in online lecture】
Please access the URL in the completion email.
Contact
SITH Ho'oponopono Asia (Serene Co., Ltd.)
3-3-6-3F Roppongi Minato-ku Tokyo Japan, 106-0032
Email: info@hooponopono-asia.org